Mainsail™ Application Platform
You need to collect, organize and share data to get the most from your commercial operations. Do it with an SaaS platform that can be configured to meet your unique needs.
Ditch the spreadsheets
You need comprehensive, current and accessible data to make the best possible strategic decisions.
Relying on spreadsheets and emails to collect and share information about your customers is inefficient and error-prone. Beghou deploys Mainsail to help life sciences commercial teams input, organize, and analyze customer information, sales performance, account plans, and more – all in a single platform. Most importantly, the platform is flexible, so Beghou can adapt it to accommodate your specific metrics and goals.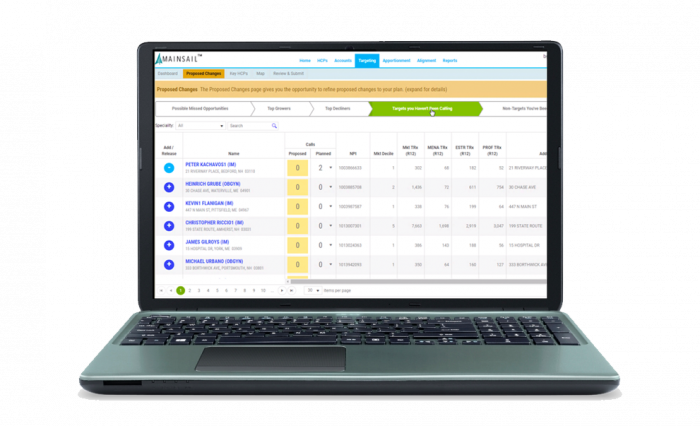 Customer management
Mainsail can serve as your CRM – and so much more. Create and maintain a comprehensive and accurate database of customers that includes detailed profile and affiliations data.
Sales reporting
Generate robust and customized reports on the sales performance of your entire product portfolio. You can also use the platform to apportion sales.
Customer targeting
Maintain territory target lists and call plans that incorporate field sales representative input and management review. 
Business and account planning
Store and organize information and documents related to past activity and sales performance. Then, create and manage strategic action plans that drive results.
Incentive compensation reporting and calculators
Keep your field force motivated by providing accurate and timely information such as projected attainment as well as easy-to-use tools like "what-if" calculators.
Roster management
Consolidate and view information about your sales force. Edit and add assignments for field sales representatives in the platform, and easily track assignments over time.
The right data at your fingertips can supercharge your commercial efforts
Mainsail equips field sales representatives and commercial operations leaders with information they can act on
Beghou developed Mainsail – and enhances the platform on an ongoing basis – to meet the needs of busy field sales representatives and commercial operations leaders. It's an advanced, configurable application platform that's easy to deploy and use.
Leverage the cloud
Hosted on Microsoft Azure, Mainsail offers the convenience, security and mobility of the cloud. You benefit from automatic updates and can scale the platform with your organization as you grow.
Use on all your devices
Users can access all of Mainsail's capabilities on any device with a browser. Additionally, Mainsail's iOS app for iPads and iPhones works offline and takes advantage of native features such as location services, signature capture and image uploads.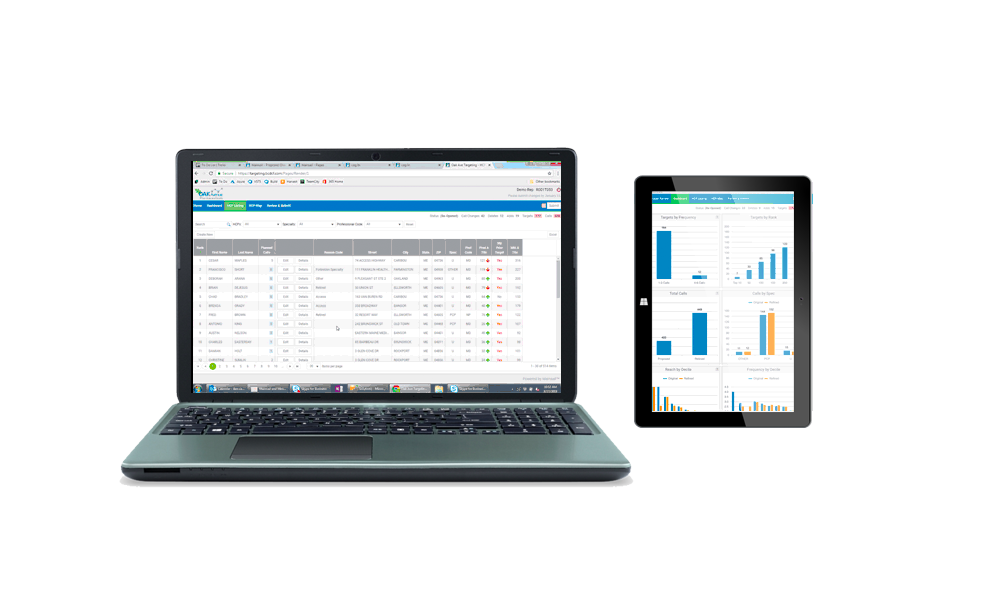 Integrate with third-party platforms
Do you need to integrate Mainsail into your Veeva or Salesforce system? No problem. Mainsail can easily embed into third-party tools
Would you like to learn how Mainsail can help you gather, organize and share field intelligence?
Contact us today to schedule a demo.