Advance your career at Beghou Consulting. Join a collaborative, creative team that develops innovative commercial solutions for life sciences companies of all sizes.
Be Impactful | Be Collaborative | Be Valued | Be Challenged | Be a part of the Beghou Story
30yr
history
---
Nearly
300
employees
Be
impactful
Join a team that blends sophisticated data analytics, cutting-edge technology platforms and deep industry knowledge to help innovative life sciences companies bring life-changing therapies to market.
Be a part of the Beghou story.
Advance your career at an innovative and growing company with deep expertise in pharmaceutical commercialization.
Founded 30 years ago on the values of integrity, excellence, collaboration, partnership, and growth, Beghou now employs nearly 300 talented professionals around the world who leverage best-in-class data analytics techniques and technologies to support innovative life sciences companies. Integrity Excellence

Collaboration

Partnership

Growth
Gain meaningful experience quickly by interfacing with clients and working alongside senior leaders on cross-functional teams.
Learn and grow among a diverse collection of individuals, each with unique perspectives that are welcomed and celebrated.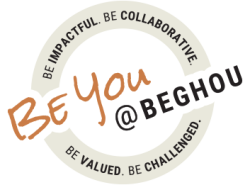 Learn More About Our Valued Team Members
"At Beghou, we're matched with a colleague who we don't typically work with to a create new connections throughout the company who support our personal growth. I appreciate this program because I am able to ask any question - whether it's for a specific client project or more general - and my mentor is always willing to help."
"After graduating college, I knew that I wanted to go into the health care or pharmaceutical industry, but did not want to do research. Beghou Consulting impressed me with its data-driven approach to solving business challenges for life sciences industry clients. The mix of data analytics, solving business challenges and working with the pharmaceutical industry aligned perfectly with what I was looking for in a career."
"My favorite part of working at Beghou is the people and supportive environment. Every time I ask someone for help, even if that person is on a different client or project, they're always willing to offer insight and advice. Even as we have grown and expanded over the years, the culture that initially drew me to Beghou eight years ago is still present today."
"Mentorship is an important part of the culture at Beghou. I've learned a lot from people at all levels. It is a very collaborative culture, and we're actively mindful of developing skills for new hires, not just finishing client work."
Be

Valued
At Beghou, every employee plays an important role in our firm's success. We help each team member propel their career forward and reward good work.
Whether an employee is located in India or Chicago, North Carolina or New York, we offer fair and competitive pay. We also work to ensure our benefits support each employee's unique circumstances and needs, and lead to personal and professional growth.
Benefit Highlights
---
Competitive compensation and packages to ensure all employees thrive financially.
---
Commitment to help all team members develop new skills and grow their career within the organization.
---
Flexibility to achieve work-life harmony with client visits scheduled throughout the year rather then wearisome Monday through Thursday travel.
---
Emphasis on working hard and playing hard while gaining new experiences: from happy hours to rec sports leagues to organized volunteer opportunities.
Be
Challenged
Consulting can be a demanding career, but also a rewarding one. At Beghou, we embrace challenges in our work, and we value a full life outside of the office.
We offer remote or hybrid work options, when possible, organize social events, and support our colleagues' efforts to maintain healthy habits, manage stress and seek the work-life harmony that best fits their lifestyle.
The Beghou

Promise
We celebrate YOU and your unique experiences.
We celebrate the diverse collection of people who work together at Beghou.
BE IMPACTFUL.
BE COLLABORATIVE.
BE VALUED.
BE CHALLENGED.
BE A PART OF THE BEGHOU STORY.
And always, Be YOU @ Beghou.